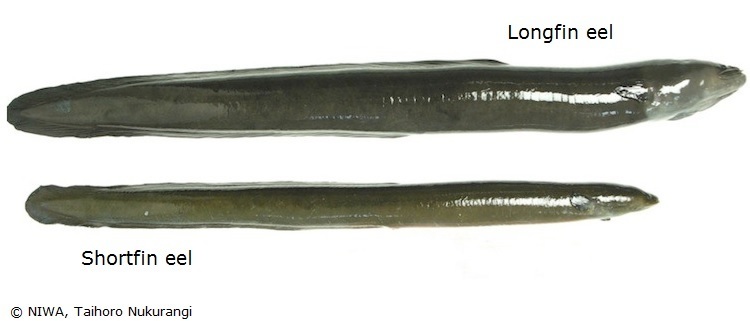 The shortfin eel (Anguilla australis) is not unique to New Zealand. It also occurs throughout the South Pacific in Australia, New Caledonia, Norfolk Island, Lord Howe Island and perhaps Fiji. Generally, it lives at low elevations and does not go as far up river and inland as the longfin eel. It prefers warmer brackish water, coastal lakes and lowland lakes.
It is carnivorous, eating crustaceans, fish, frogs and even small birds.
It migrates from freshwater to the ocean to spawn and die. The returning juveniles are good climbers.
Shortfin eels are our most tolerant native fish species. They survive environmental hazards like high water temperatures or low dissolved oxygen concentrations. That means they can live in habitats where other species cannot survive.
The shortfin eel can be differentiated from the longfin eel by the length of its dorsal fin. It is also somewhat smaller as an adult.
Acknowledgement: NIWA, Taihoro Nukurangi